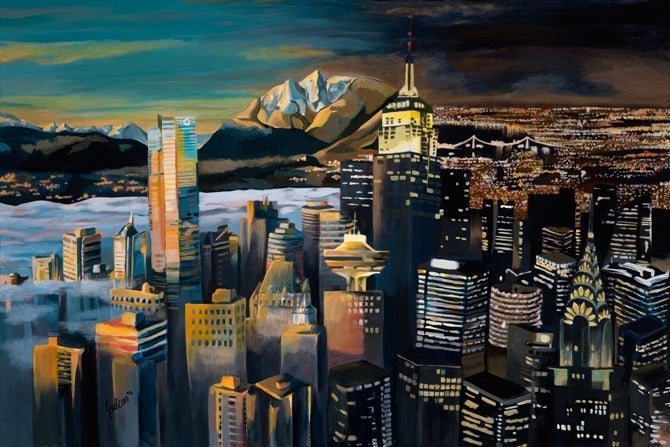 I recently read this article that was written more than a year and a half ago. I find it ironic that The New Yorker", a magazine named after (what I had always thought to be) the most expensive city in the world would identify Vancouver as holding that title.
"The most expensive housing market in North America is not where you'd think. It's not New York City or Orange County, California, but Vancouver, British Columbia. Now, Vancouver is a beautiful city—a thriving deep-water port, a popular site for TV and movie shoots. By all accounts, it is a wonderful place to live. But nothing about its economy explains why—in a city where the median income is only around seventy grand—single-family houses now sell for close to a million dollars apiece and ordinary condos go for five or six hundred thousand dollars. "If you look at per-capita incomes, we look like Reno or Nashville," Andy Yan, an urban planner at the Vancouver-based firm Bing Thom Architects, told me. "But our housing prices easily compete with San Francisco's."
When price-to-income or price-to-rent ratios get out of whack, it's often a sign of a housing bubble. But the story in Vancouver is more interesting. Almost by chance, the city has found itself at the heart of one of the biggest trends of the past two decades—the rise of a truly global market in real estate.
We're all familiar with the stories of Russian oligarchs buying up mansions in London, but this is a much broader phenomenon. A torrent of capital from wealthy people in emerging markets—from China, above all, but also from Latin America, Russia, and the Middle East—has flowed into the real-estate markets of big cities in other countries, driving up prices and causing a luxury-construction boom. A recent report by Sotheby's International Realty Canada examined more than twelve hundred luxury-home sales in Vancouver in the first half of 2013 and found that foreign buyers accounted for nearly half of sales. In Miami, a huge influx of money from Latin America has enabled the city's housing market to recover from the bursting of the housing bubble, and has set off a condo-construction spree. Australia has become a prime market for Chinese investors, who Credit Suisse estimates will buy forty-four billion dollars' worth of real estate there in the next seven years.
What's so special about the places that attract all this foreign money? The economists Joseph Gyourko, Christopher Mayer, and Todd Sinai have developed a theory about what they call "superstar cities." Looking at data from 1950 to 2000, they found a small number of cities where housing prices rose steeply, and concluded that high earners tended to cluster together over time, with the result that rich cities tend to get richer.
Vancouver isn't an obvious superstar. It's not home to a major industry—as New York and London are to finance, or San Francisco to tech—and it doesn't have the cultural cachet of Paris or Milan. Instead, Vancouver's appeal consists of comfort and security, making it what Andy Yan calls a "hedge city." "What hedge cities offer is social and political stability, and, in the case of Vancouver, it also offers long-term protection against climate change," he said. "There are now rich people around the world who are looking for places where they can park some of their cash and feel safe about it." A recent paper by two Oxford economists bears this out, showing
a tight correlation between London house prices and turmoil in southern and Eastern Europe. The real-estate boom in Miami has been magnified by political unrest in Venezuela. And Vancouver, which has a large Chinese population, easy access to the Pacific Rim, and nice weather, has become a magnet for Chinese investors looking for insurance against uncertainty. A Conference Board of Canada report found that Vancouver's real-estate market is tightly connected to what happens in the Chinese economy.
The globalization of real estate upends some of our basic assumptions about housing prices. We expect them to reflect local fundamentals—above all, how much people earn. In a truly global market, that may not be the case. If there are enough rich people in China who want property in Vancouver, prices can float out of reach of the people who actually live and work there. So just because prices look out of whack doesn't necessarily mean there's a bubble. Instead, wealthy foreigners are rationally overpaying, in order to protect themselves against risk at home. And the possibility of losing a little money if prices subside won't deter them. Yan says, "If the choice is between losing ten to twenty per cent in Vancouver versus potentially losing a hundred per cent in Beijing or Tehran, then people are still going to be buying in Vancouver."
The challenge for Vancouver and cities like it is that foreign investment isn't an unalloyed good. It's great for existing homeowners, who see the value of their homes rise, and for the city's tax revenues. But it also makes owning a home impossible for much of the city's population. And the tendency of foreign buyers not to inhabit investment properties raises the spectre of what Yan has called "zombie neighborhoods." A recent study he did found that a quarter of the condos in a luxury neighborhood called Coal Harbour were vacant on census day.
One option would be to severely restrict foreign ownership, but that's politically difficult, and not great for a city's economy. It might make more sense if the Vancouvers of the world simply charged foreign buyers a premium for the privilege of owning there. "We're one of the places where people seem to want to park their cash, and there aren't that many of those places," Yan says. "So let's raise the parking fees." As for the rest of us, we'd better get used to being tenants."
*Credit - James Surowiecki May 26, 2014