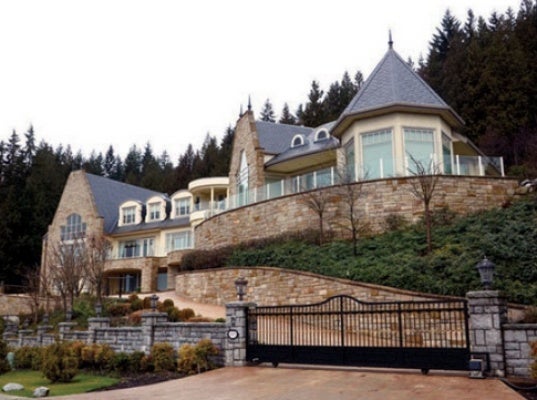 On Monday, West Vancouver council took a small step toward dealing with monster homes and neighbourhood character, voting unanimously in favour of a set of proposed bylaws that address "building bulk"  in a way that staff describe as  "incremental in nature and phased over time."
"This is an issue in the community and now we are seeing what we can do about it," said Coun. Craig Cameron. "There's still too much housing being built that's extremely insensitive – the entire lot is razed unnecessarily and levelled in a way that doesn't have respect to the topography or the neighbours or the neighbourhood character and we need to somehow address that."
Following a packed and spirited public meeting last February, the district began a lengthy public engagement process, which also included meetings with builders, that focused on neighbourhood character and building bulk. 
During the public consultation, many said size was not all that matters when it comes to the massive new homes. There's also concern over lot-clearing that erases established trees and vegetation and site modification, among other things.
With that in mind, the proposed bylaws tackle specific issues broadly supported by the public during the consultation process. 
During Phase 1 – called "immediate/short term" – staff recommended the introduction of residential fencing and landscape regulations, along with rules governing the treatment of boulevards, roads and lanes, and lot consolidation controls.
On the issue of lot consolidation, the staff report noted "many respondents supported restricting how many lots can be bought and consolidated in order to prevent houses being constructed that may be out of scale with the surrounding areas." Currently, for example, if three 12,000-square-foot lots are assembled, the permissible floor area would be 12,600 square feet but under the new proposed bylaw, the floor area for three assembled lots would be capped at 6,300 square feet. 
Coun. Cameron expressed concern that new bylaws could spark a last-minute dash to assemble lots. "What we are going to run into and what we want to forestall is people purchasing lots and consolidating them right before we pass the bylaw," he said. 
As a staff report notes, other issues relating to building bulk – including highest building face envelope, changing the regulations for basements, on-site tree retention and retaining wall regulations – require more public input and should be considered as regulations for Phase 2, or the "mid-term" of the program. 
With council's unanimous approval, staff will now prepare the amending bylaws to implement short-term goals and report back to council by spring 2016. 
"Unfortunately a lack of common sense, common courtesy and common values around some of the building practices in this community have led us to have to take these more prescriptive steps," said Coun. Mary-Ann Booth. "I think in the end, will everybody be completely satisfied? Probably not. But the steps are in the right direction."
Coun. Nora Gambioli said time is of the essence when dealing with the issue. "Since we started talking about monster homes three years ago – sorry, building bulk (is what) we are calling it – there have been at least 150 homes per year built…  so by the time we see a bit of light at the end of this tunnel we are talking perhaps 600 new homes before these restrictions get into place. ... Every day matters."
Responding to a speaker's concern that only 500 people participated in the public consultation process, Coun. Christine Cassidy noted, "Since we had that meeting on Feb. 23 we did go out to an extensive consultation process, both with the public and the building industry. We cannot drag people out of their homes, as much as we might like to, we want to hear what they have to say. We have said it repeatedly on this council. Don't let other people do the hard work for you and then complain afterwards because you don't like the results."
*
Courtesy of North Shore News